We are passionate about the origins of our cacao and really prioritise the authenticity of our beans. We source beans with great genetics from four different origins selecting them for their personality and unique flavour profiles.
Our beans arrive in 50 -70 kg jute sacks. We sort the beans by hand to remove any damaged beans, stones or twigs.
Each bean variety has its own individual roasting profile and they are roasted to retain their flavour notes.
We adjust how we long we roast and the temperature we roast at, as this is a key stage for the production of chocolate.
Once roasted and when the beans have cooled they are cracked in a cocoa bean breaker mill.
Finally both nib and husk are fed through a winnower that separates the majority of the husks via an air-flow system. The nibs are then put through a sieve where any remaining husks and any poor quality or under-fermented nibs are removed by hand.
The nibs are ground down to a uniform size in small batches before they are put in the Melanger, a machine with a granite base and wheels that break down the cocoa beans. This process takes 60 hours and during this time we add organic unrefined cane sugar and a small amount of cocoa butter.
Conching and refining gives the chocolate a silky and buttery texture and removes residual acidity resulting from fermentation.
We assess the conching process throughout and adjust the amount of heat, pressure and time related to the bean variety.
The chocolate rests and matures for 30 days in blocks before tempering.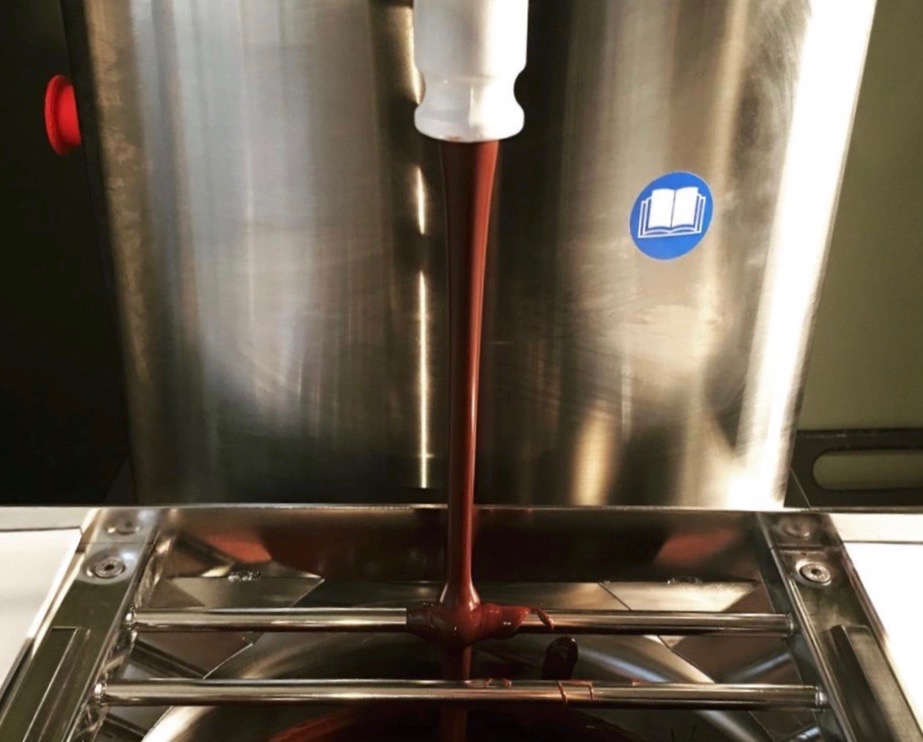 After the chocolate has matured it is remelted and this fluid chocolate is stabilised through tempering. The molecules from the cocoa butter must crystallise in order to obtain a smooth glossy finish and a satisfying snap.
Once tempered the chocolate is poured into moulds and once set wrapped by hand.
Chocolate should be stored away from sunlight between 15 and 18 degrees.